What to eat in Paris with children
Paris, the culinary capital of the world! Visiting Paris with your kids opens up their world to new and exciting experiences, but also smells, tastes, and textures. At the French School, we incorporate making French recipes into our curriculum so that our students learn to appreciate a variety of foods and diverse flavors, but nothing compares to the bona fide experience of ordering and eating at a cafe in France. In Paris, there is no shortage of authentic French foods to try that will please even picky preschoolers and unadventurous adolescents alike. Here are five things to try with your family during your next trip to Paris.
Tucked into the Île Saint Louis is the most celebrated ice cream shop in Paris. Berthillon serves up more than 70 classic and creative flavors of ice cream and sorbet using all natural ingredients. Before your little one has a chance to request vanilla, offer something slightly more adventurous yet still familiar like melon, mango, or mandarine orange, all perfect for a warm, sunny Parisian evening stroll. Grab your cone to go at the window or have a seat in the tea room. Note: the Berthillon shop, located at 31 Rue Saint-Louis en l'Île, attracts throngs of ice cream lovers. Many other shops and cafés on the Île Saint-Louis serve Berthillon ice cream without the long lines, but the original shop is worth a visit at least once.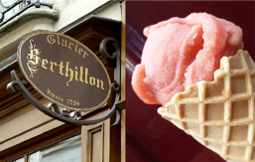 2. Angelina
Located on the Rue de Rivoli, adjacent to the Jardin des Tuileries, Angelina's salon de thé seems plucked out of a little child's fantasy world. Make reservations online to enjoy breakfast or lunch in the tea room and be sure to indulge in the famous chocolat chaud l'Africain (African hot chocolate). The recipe is a closely guarded secret, but the blend of 3 varietals of cocoa beans from Ghana, Niger, and the Ivory Coast give this hot chocolate its distinct flavor. Children will marvel at the colorful, elaborate pastries and devour the delectable sandwiches and salads on their menu.
3. Les cafés et les bistros
Dining at fancy restaurants in the evening proves challenging for families attempting to respect children's bedtimes. Many restaurants do not begin dinner service until 7:00pm (or later!). No need to worry about requesting a children's menu as traditional French café and bistro fare is simple and flavorful. At any cafe or bistro, children can fill up on omelettes, croque monsieur (baked ham and cheese sandwich usually served with french fries and/or a salad), cooked chicken dishes, and baguette sandwiches with ham, chicken, or vegetables. Of course, there is often a wide array of ice creams and desserts to round out the meal!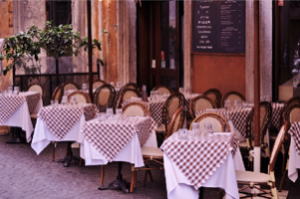 4. Faire un pique-nique
With children, think outside the restaurant. When the weather permits, plan a picnic! An eye-opening and exciting experience for children would be visiting a French grocery store or open-air market and helping to plan a picnic for the family. Pick up a variety of charcuterie and cheeses, choose from the many ready-made sides, and finish the meal off with some fruit and a little chocolat. Discover the wonder that is the boulangerie and have your child order "une baguette, s'il vous plaît." Then, pick a nice grassy spot on the Champs-de-Mars or on the banks of the Seine to have an unforgettable view and meal together. Don't forget a little wine for Mom and Dad in the picnic basket!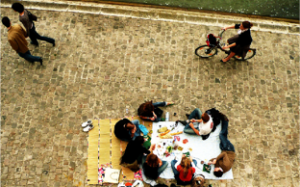 5. Les crêpes 
A meal at a crêperie is a great option for families, but a real treat for children is stopping at one of the many crêpes stands that dot the city where they can watch crêpes being made before their very eyes. Pick from popular fillings like traditional sugar and lemon, Nutella or chocolate with banana, and honey. Savory crêpes like ham, chicken, mushrooms, and cheese are easy options for a quick lunch on the go. Try La Drogerie du Marais in the 4th arrondissement or Crêpes d'Or near Saint-Germain-des-Près, then find a spot in the park to dine al fresco. 
Bon appétit!