Cabarets in Paris – Where to see the cancan dance
Some of you may have recently seen our very own French Institute team dance the cancan in Winnetka's 4th of July parade. You are welcome to visit our Facebook page to watch a video clip!
The cancan is a theatre dance that is usually performed by female dancers in large, exaggerated skirts. It is known for being physically demanding, as many high kicks, splits, and cartwheels are involved in the routine. The cancan has appeared in many French cabarets for over a century. A cabaret, for those unfamiliar with the term, is a form of theatrical entertainment involving music, dance, or drama. Just as one would go to the Louvre to look at art, or the Palais Garnier to see an opera, there are a number of popular cabarets in Paris that one can visit to see the cancan performed in person. Just beware, most, if not all cabarets, include some topless dancers.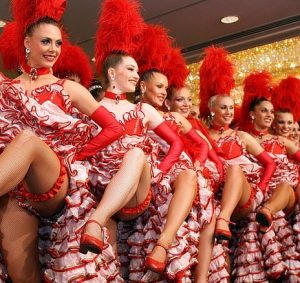 1. Moulin Rouge
The most famous cabaret in Paris (and in the world, for that matter) is the Moulin Rouge, regarded as the birthplace of the cancan. In the Paris district of Pigalle on Boulevard de Clichy, the Moulin Rouge stands out among other buildings due to the large red windmill on its roof. Many Parisians consider the Moulin Rouge to be a tourist trap, and advise visitors to instead explore the many smaller cabarets the city has to offer. However, others argue that a show at the Moulin Rouge, although crowded and pricey, is a dazzling performance that every tourist  should experience at least once.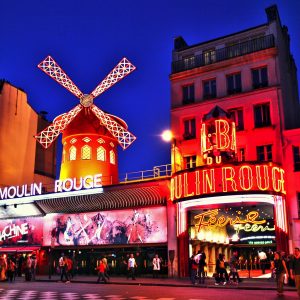 2. Crazy Horse
A popular alternative cabaret, Crazy Horse Paris, is known for its more erotic shows performed by topless female dancers. Brilliant lights and intricate dance routines are combined to celebrate femininity and immerse the spectators in the show. Interestingly, Crazy Horse Paris has been a popular venue for magicians, jugglers, and mimes, who often perform between each show. The success and popularity of Crazy Horse Paris has spawned other Crazy Horse cabarets in the likes of New York City, Las Vegas, Beirut, and many other cities across the  globe.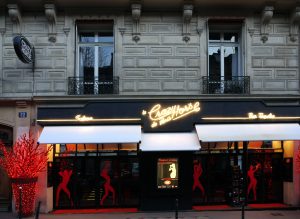 3. Le Lido
Le Lido is a popular cabaret, located on the Champs-Élysées, that is known for its spectacular costumes. Every show at Le Lido features a performance by the "Bluebell Girls," a group of beautiful and talented burlesque dancers. Many celebrities have also held performances at Le Lido, including Johnny Hallyday and Elton John. Not as erotic as Crazy Horse Paris, and not quite as touristy as the Moulin Rouge, Le Lido offers an authentic French dance experience.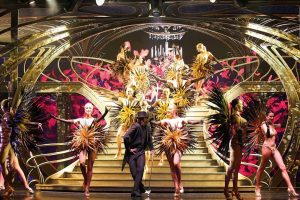 The Folies Bergère was originally built as an opera house in the 9th Arrondissement of Paris. Beginning in the 1870s, it began featuring shows with extravagant costumes, dances, and topless women, much like the other cabarets on this list. The Folies Bergère once hosted American-born entertainer and activist, Josephine Baker, who famously performed in a skirt made of artificial bananas. Still in business today, this cabaret is a symbol of Parisian life.
Regardless of which cabaret one decides to visit, two things are always certain: A show involving the cancan will be performed by very talented dancers, and, according to the Parisians, the food provided by the venue should be avoided at all costs.